Graphic Design Challenge 2021
We are excited to launch our 2021 design competition:
A Focus on the Care and Charity sectors.
Everyone has been affected by the events of the past year. The care and charity sectors have seen finances stretched and their resolve tested. With imagination and creativity, we believe we can help make a positive difference.
The brief
We are seeking design and art students to create a poster & social media graphic, for a charity of choice, small or large. We just ask that the work resonates with your values.
Using your creative talent, we would like you to design:
1 x A3 poster – PDF
1 x Social media square graphic – JPG/PNG
Deadline: 12 noon 30th April 2021
Tips and things to consider
Writing copy
If copywriting isn't your strong point, don't worry, you can use existing messaging (from the charity) or ask someone who is good with words to help you.
Grab attention
Choose great imagery. We really want to see your creativity. Be mindful of the target market, make sure your images work with your message & are at the right resolution.
Pick a passion
This isn't just about winning a competition. It's about spreading awareness and sharing a positive message. Choose a charity or subject you feel passionate about. This passion will come through in your designs.
The prize
The successful winner will receive a creative bundle of goodies, including:
Branding in 5 and a half steps – Michael Johnson
Book of ideas – Brand Nu

Fine line drawing pens
Here is an example, created by our designer, Amy:
Amy wanted to create an eye catching design to promote Stubbington Ark's fundraising initiative as it is a cause close to her heart. She selected a bright colour palette and created fun illustrations but used text from an existing campaign.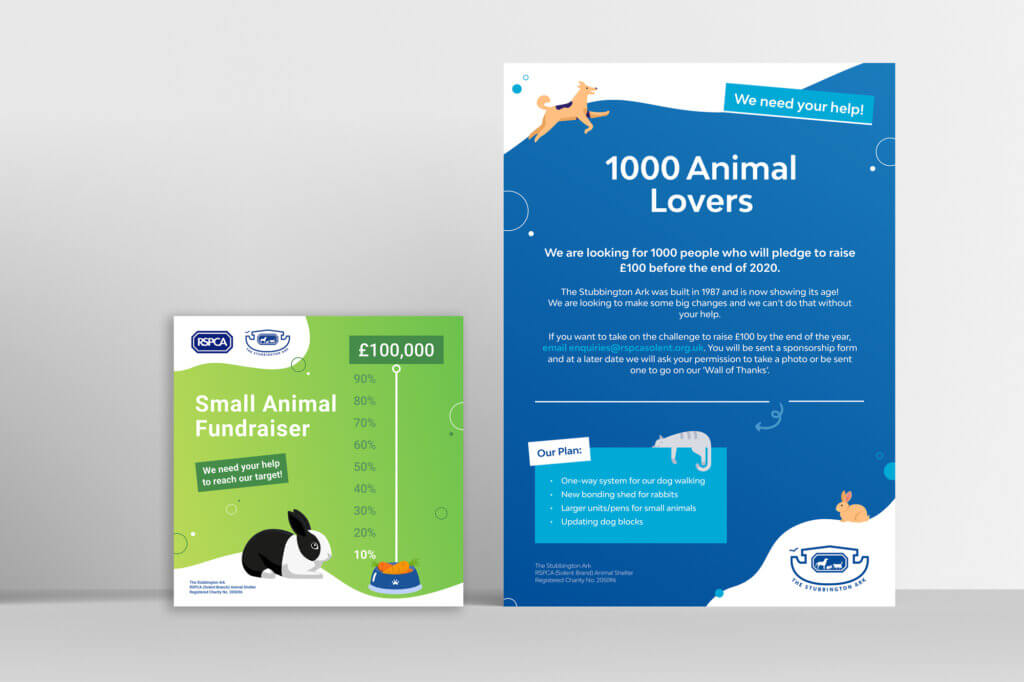 Other benefits:
You'll obtain live agency experience

You will receive feedback from our experienced designers

It'll boost your portfolio

You'll gain recognition via Glow's social media channels

It will improve your CV

It'll make you feel great!
How to enter
Please submit your final designs, to lisab@theglowstudio.com by 12 noon 30th April 2021.
Make sure you include your contact details with your design competition submission. The winner will be announced on the 7th May 2021.
Little important note: Your designs must not be published or promoted without consent of the charity.