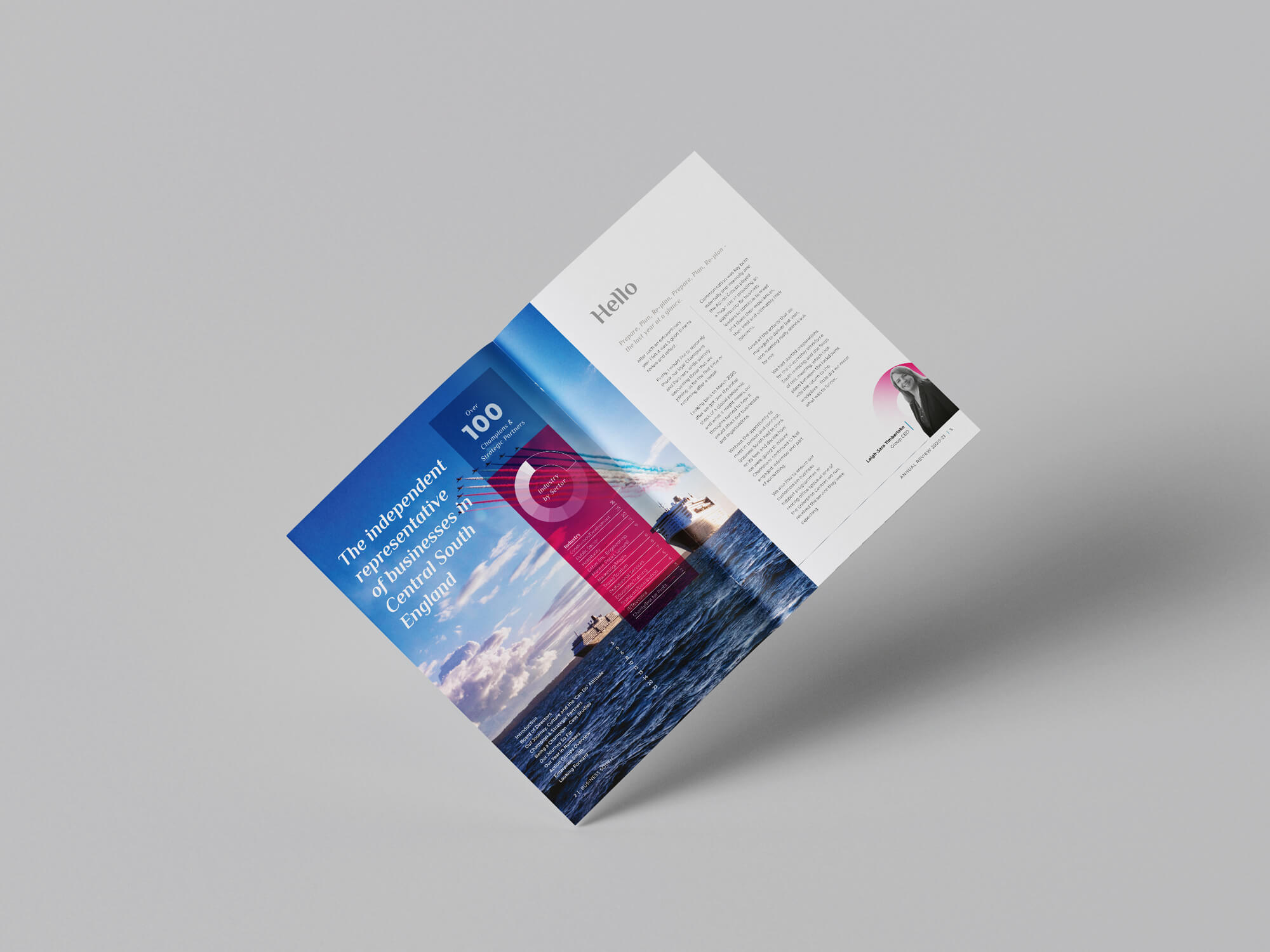 The design of Annual Review projects makes the Glow team smile. They are rich with content and brand personality and when it comes to corporate literature, for us, it is probably at the top.
Over the past few months, we have been working with Business South to create its latest 2020-21 Annual Review. The document is fabulously designed, insightful and is an honest look at the past year. It looks crucially at what has been achieved, despite the backdrop of the pandemic, the triumphs and challenges and the appreciation of the unwavering support of Champions and Strategic Partners.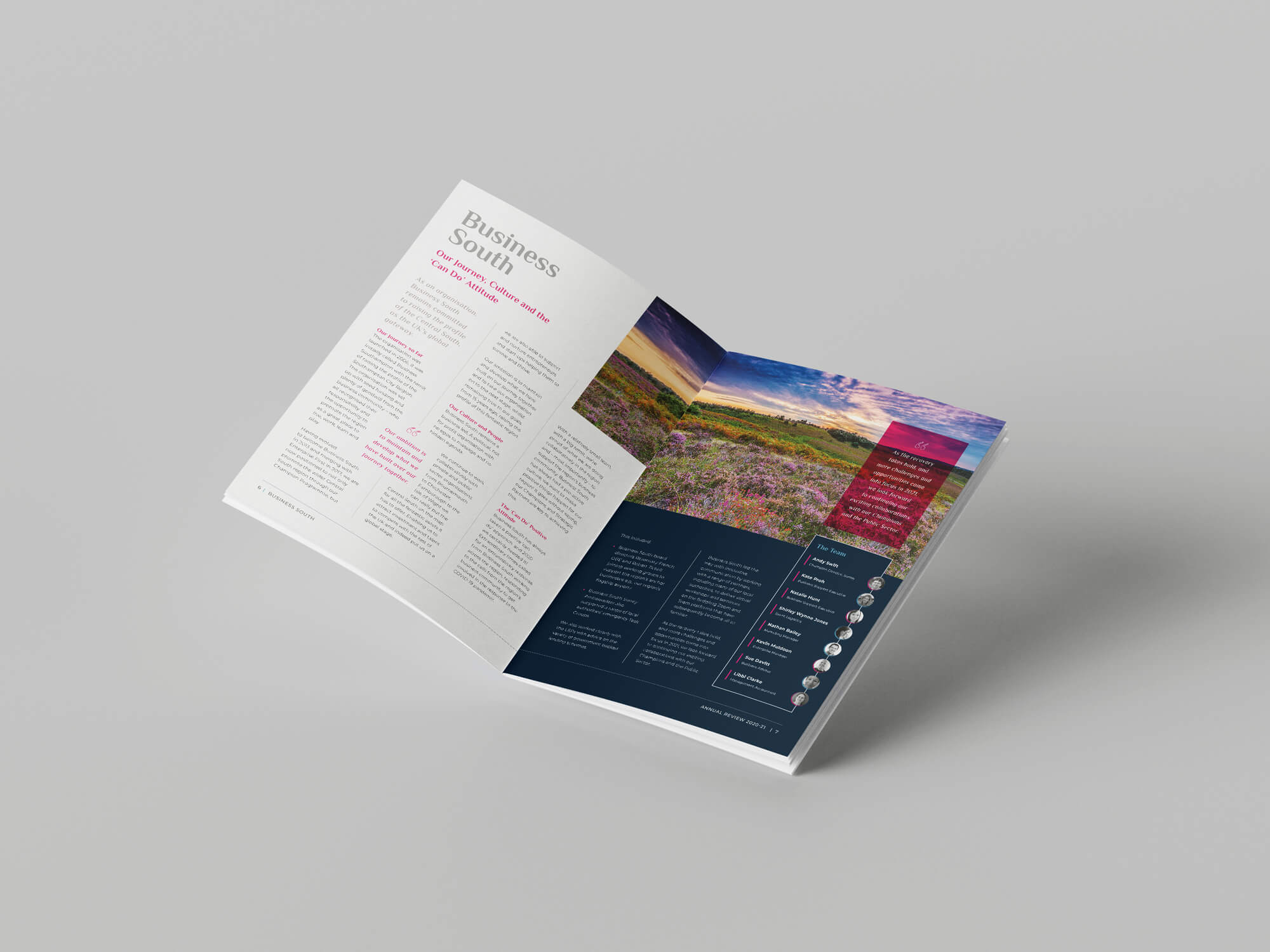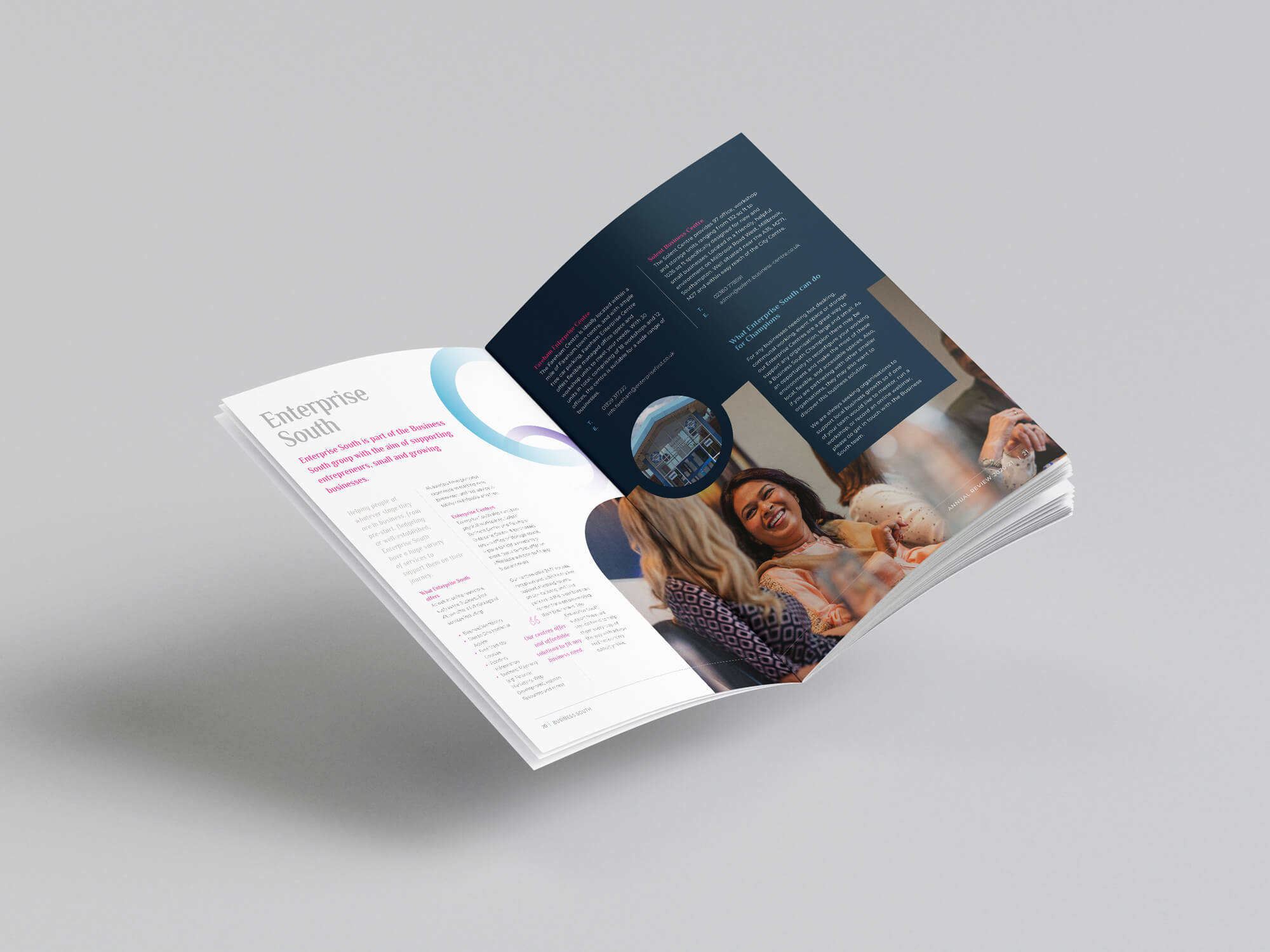 Inside the report there is a candid introduction from Group CEO Leigh-Sara Timberlake, a delve into the associations culture and can-do attitude plus Champion case studies plus the magnificent journey so far, including its merge with Enterprise First (now South) in 2017.
Also within the review is detail about the brilliant Business South Action Groups. The groups are an integral part of the organisation and provide a platform for the business community to work collaboratively and share best practice and learnings across a number of sectors. All of the Action Groups are focused on driving forwards economic recovery across the Central South and sustainably building back better for the prosperity of the region. There are currently five core Action Groups which each focus on specific areas. These are:
Digital South
Lifestyle & Culture
Regenerate South
Maritime & Transport
Workforce South
Glow is a proud Champion member of Business South and has always admired its commitment to bring together – by working in partnership – some of the largest names in the Central South. Lisa Lavis, Glow's MD is also the chair of the Business South Lifestyle and Culture Action Group and is honoured to work with the many fabulous venues, destinations and locations in the region, including Chewton Glen, Southampton Harbour Hotel, Cunard, Solent University, Charles Russell Speechlys LLP and Visit Hampshire.
Glow has been supporting Business South for many years, providing creative and design services and we're really looking forward to seeing Business South strive forward, which we know will be with agility and resilience.  Check out the Business South events for details about exciting projects coming up, including the Annual Conference on 4th November and MIPIM 2022, Cannes – the world's largest real estate event – where Business South will be attending, showcasing  why the Central South is a place of significant interest on the world stage.
#collaborating #centralsouth #annualreview #design #brandpersonality