This week we've created a suite of bold and engaging conversation cards for QFactorial, providers of quality management consultancy services. 
This project involved designing 56 oversized conversation cards featuring a historical quote, along with a topic or question for discussion. The idea being that the cards could be used, as a valuable tool by professionals, to begin conversations about quality and other business-related subjects. They would also act as a brilliant training aid and assist in conference icebreakers and mind mapping exercises.  
We initially presented QFactorial with two concept designs. Both utilised the existing impactful branding, however one used a vector based graphic styling, whilst the other took a more photographic approach. QFactorial had a tough decision but chose to develop the vector focused design. 
This concept used a balanced combination of bold colour blocks, dynamic shapes, playful elements and areas of white space to provide a fresh and contemporary feel. Decorative features, such as large question marks were also used, not only to improve the aesthetic, but also to prompt conversation and to aid the approachable and playful feel of the design. 
We then created a branded box for the cards to sit in, which involved producing a net with an eye-catching wraparound design.  
QFactorial were thrilled with the finished result, with Brand Manager, Harriet, saying 'we've received the Q! Cards and wanted to thank you very much for the hard work of yourselves and your team in producing these for us – they really do look the part!'.
The team at Q Factorial are keen to share this new creation with like-minded professionals. And the cards would be great for use on video chats and calls to mix up the routine and get the conversation flowing. Get in touch with Q Factorial if you're interested in getting your hands on your own pack.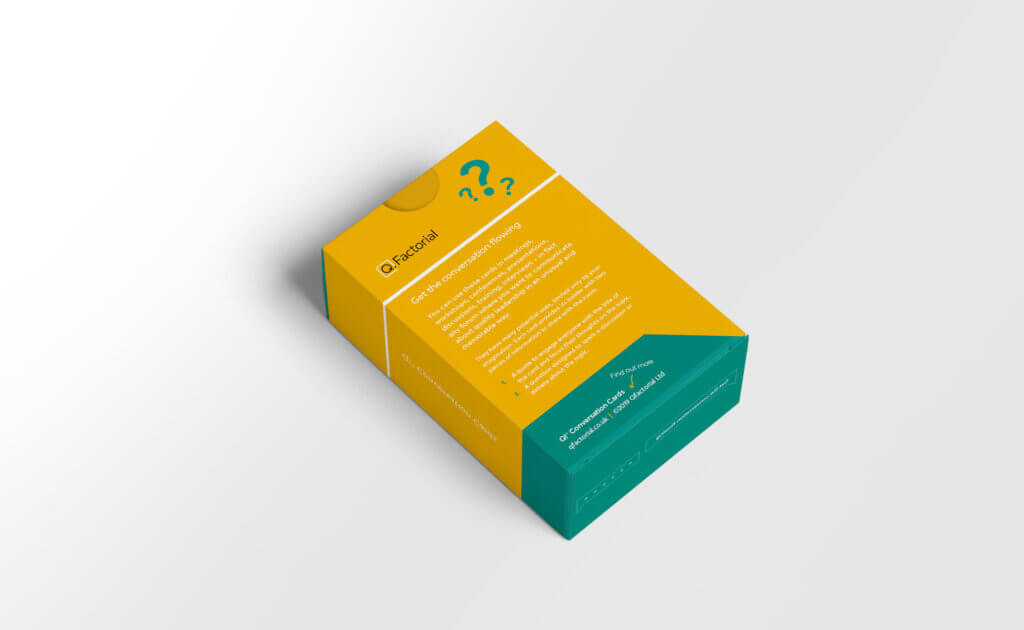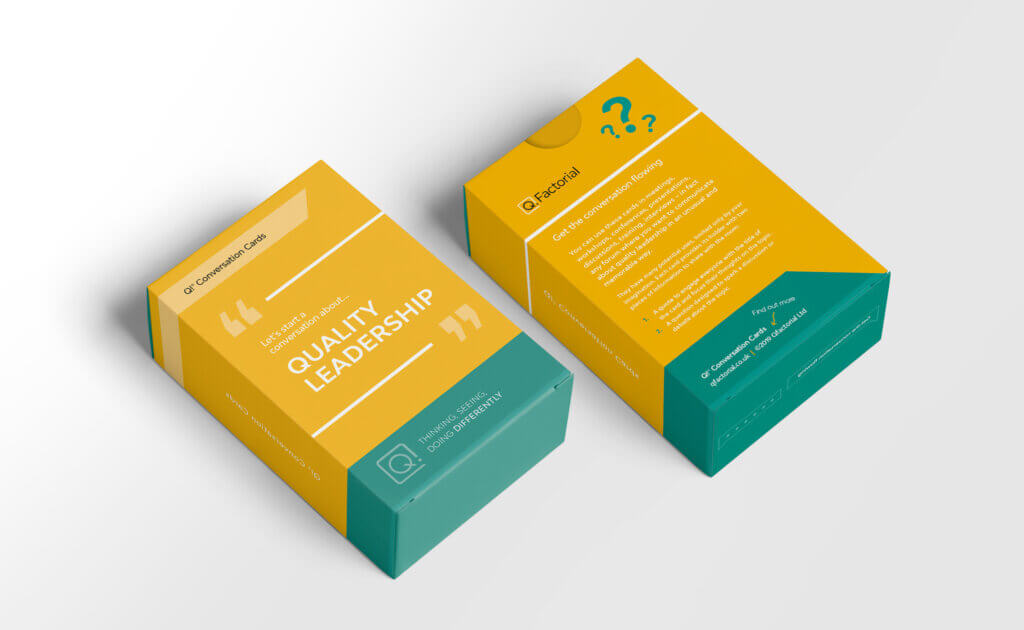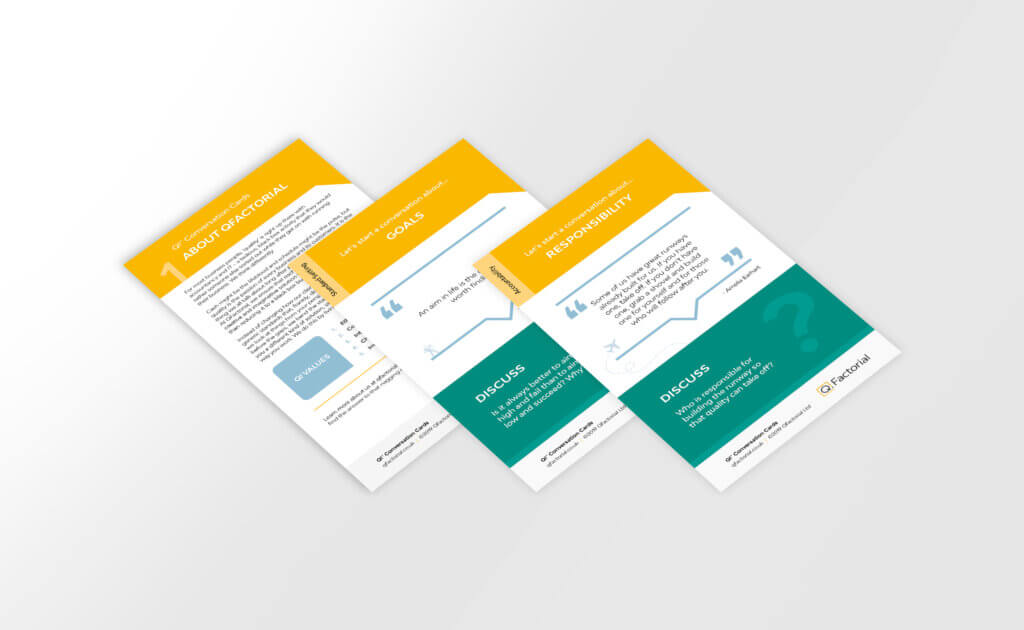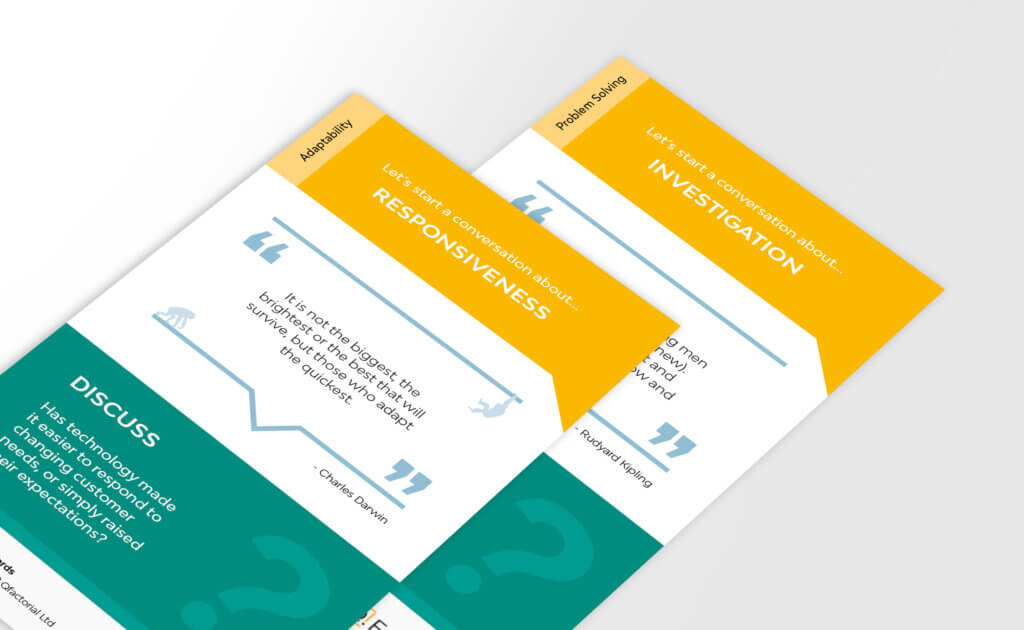 About QFactorial
QFactorial is a consultancy business specialising in quality strategies, systems, tools, products and advice.  
Established in 2013, they have built a reputation for balancing strategic thinking with pragmatic solutions. This approach has enabled them to work successfully with corporate entities, small and medium enterprises (SMEs), start-ups, quality professionals and business leaders.