Who doesn't love the excitement of a new home?  The opening of the front door and that feeling of knowing you're stepping into your next fabulous adventure.  We just adore checking out new homes, likewise, new holidays, new experiences, new ideas full stop. Therefore, being asked to design, write and produce Drew Smith Homes' latest development brochure and literature for Brewery Place, Blandford St Mary, was a dream come true!  
Drew Smith Homes commissioned Glow to produce a beautiful, high quality 12-page brochure for its Brewery Place development. In addition, we created plot inserts for each of the different house types. The brochure and inserts provide the story of Brewery Place and all the specifications, ready for excited new home seekers. Our design team built on the stylish materials already created by Drew Smith. Spending time researching both the Drew Smith brand and the unique features of Brewery Place. In addition, the brief asked that Glow provide all the copy and managed the print process. 
Brewery Place Brochure

Brewery Place is an exciting and bespoke development in Blandford St Mary, Dorset. Idyllically situated, the site sits between the Heritage Site of the Blandford Brewery, and the picturesque banks of the River Stour. 
As we created the copy for the literature, we were able to visualise how wonderful the location is. Here's a little snippet, taken from the brochure, written by one of Glow's fabulous copywriters: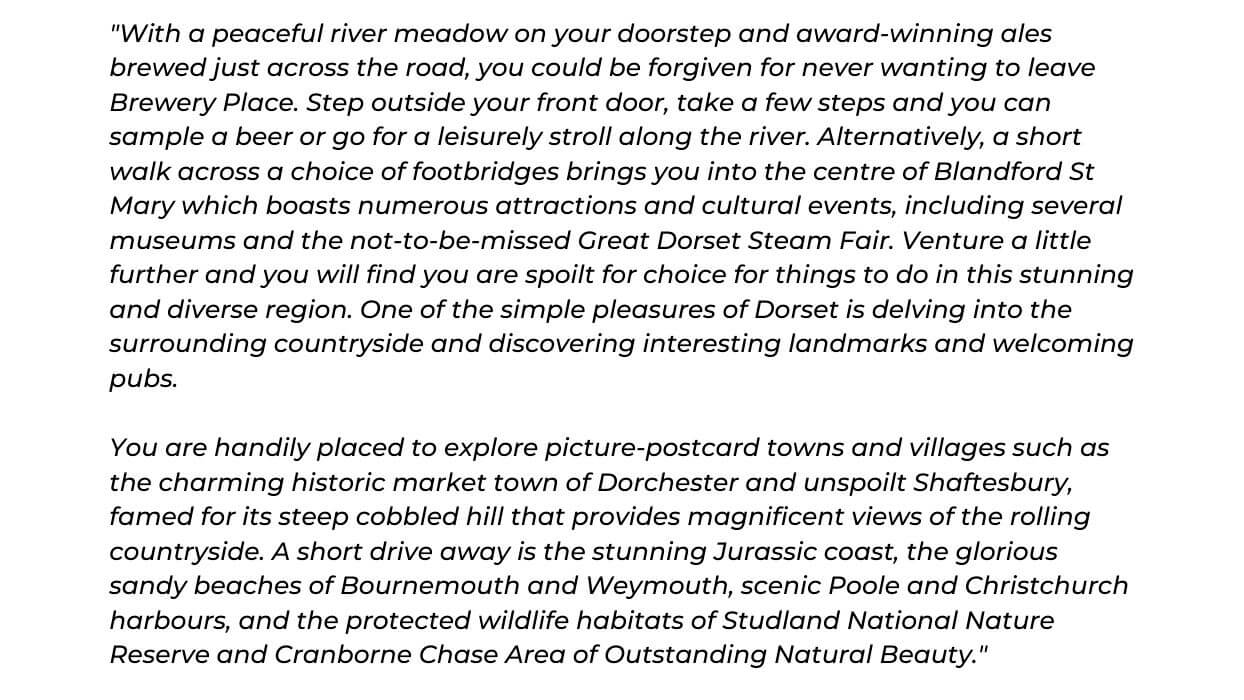 We're sold! 😉. 
About Drew Smith
Drew Smith specialises in providing exceptional new homes and is passionate about the creation of better places for people to live.
With a strong emphasis on design, sustainability and build quality. Its new homes will make a positive and long-lasting impact to both new and existing communities.
Established for more than 30 years, Drew Smith has maintained an innovative and dynamic approach to optimising the potential for the delivery of high-quality homes with a reputation for delivering on its promises.
You can view another of our Drew Smith projects here.