With the pandemic recovery, cost of living crisis and not knowing if the recent tax cuts will boost growth, the economy is still seeing buying behavioural shifts. With this uncertainty businesses can start to talk themselves into reducing expenditure. However, when we look at history, those companies who maintain and increase their marketing budgets thrive above others.
There have been a number of studies, going back over one hundred years, that point out the advantages of maintaining or even increasing marketing budgets during an uncertain economy. And recently too as mentioned by Rania Robinson, CEO & Partner of leading employee-owned London agency, Quiet Storm. During an interview on Radio 4 Rania said that their brands who invest in uncertain times, do tend to grow.
We really love – and believe in – this popular adage: "When times are good you should advertise. When times are bad you must advertise."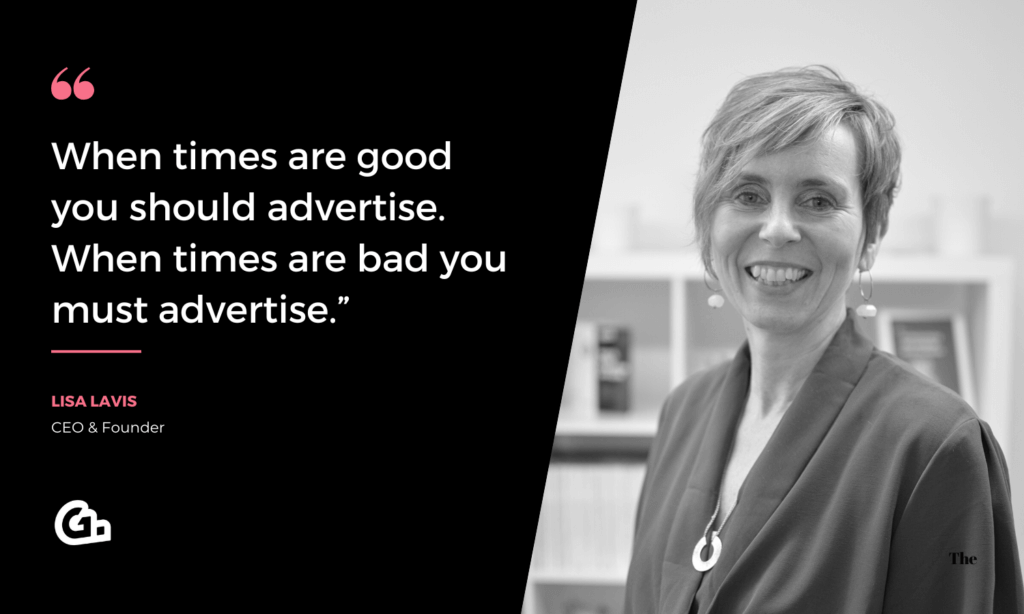 There are several reasons to keep promoting your brand during uncertain times. Here is our top five:
Noise Level
The 'noise level' in a brand's awareness can drop when not seen, allowing competitors to gain advantage, re-position or introduce a new product. Clawing back exposure takes much longer.
Corporate stability
Brands that are seen project to its consumers the image of corporate stability.
Build trust and confidence
A company's brand needs constant innovation and analysis. Websites become stale, technology changes, buying and communication habits alter – and often fast. If a company is stagnant with its brand this will impact trust, confidence and buying decisions.
Protect sales
When marketers cut back on their spend, the brand loses its 'share of the mind' with consumers, with the potential of losing current – and possibly future – sales.
Yield positivity
Brand building is exciting. It galvanises energy and diverts you away from worrying thoughts / what could be. Instead, you focus on strategy and growth which will yield positivity.
What History Has Shown*
There are a number of examples of brands that benefitted by maintaining their marketing budgets during economic downturns.
And research studies show great insight too:
In 1927, Harvard Business Review uncovered that companies that maintained their investment in branding and marketing through the Great Depression came out 20% ahead of how they went into the recession.
Buchen Advertising uncovered that companies that cut advertising during the 1949, 1954, 1958 and 1961 recessions all lagged in sales and profits behind those that did not.
Closer to home Glow has worked on company brands during recessions and uncertain times and witnessed significant success. Lisa Lavis, our CEO and Founder, was part of a 12-strong senior management team as its marketing specialist to mould, market and sell a national engineering firm during the recession of 2008 / 9. Through focused and continued marketing the right buyer was attracted and it was sold for 15 times earnings to a global energy company – way above its valuation from Price Waterhouse.
The Glow team also created a brand for a nuclear engineering company in 2011, built and delivered a robust and heavily invested marketing strategy until it was sold in 2021 for 18.5 earnings to a global giant, EDF.
To conclude, perhaps the best quote about advertising in periods of economic uncertainty came from Sam Walton, the founder of Wal-Mart. When asked, "What do you think about a recession?" he responded, "I thought about it and decided not to participate."
If you need advice in reviewing your brand and marketing strategy or you are not sure where you should be investing your marketing budgets, we'd love to help. It's what we do and what we do well.
*Sources:
Brad Adgate, an Independent Media Consultant. Forbes, Sept 5, 2019.
Nathan Hall, Forbes Councils Member, Forbes, June 29, 2020
Rania Robinson, CEO & Partner, Quiet Storm, Radio 4, September 2022