This week we're sharing a variety of promotional campaign documents we've designed for Enterprise South.
About
Enterprise South supports pre-starts, start-ups, and existing business owners. It is run by two established not-for-profit organisations, Enterprise First and Business South. It has been supporting start-ups and existing businesses since 1981 and offers a range of support including independent advice, mentoring and practical workshops. It also manages enterprise centres, providing access to light industrial and office space all on flexible terms. Enterprise South is a member of the Cavendish Consortium and delivery partner for Virgin Start Up Loans.
What we did
We've not only created the logo for Enterprise South, influenced by the Business South brand, we also created a pop-up graphic, tri-fold leaflet and a promotional campaign for post-lockdown business support.
The designs featured friendly imagery of the services it provides, jam-packed with information about how they can help.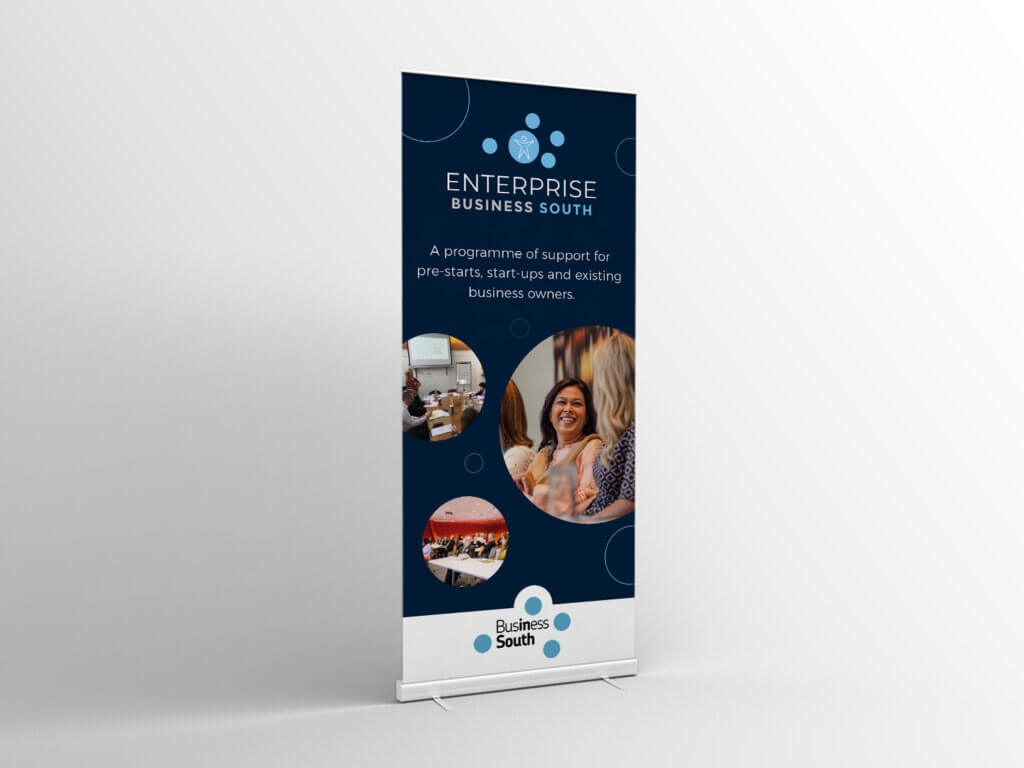 Business Support Packages Promotion
After the initial COVID-19 lockdown, Enterprise South was keen to let its client base know that it was there to help. Their team created a set of 3 support packages, aimed at different stages of business; start-ups, existing and those making redundancies. Each package is tailored to the possible requirements of the category.
Offering services such an 1-2-1s, advisers and access to workshops and masterclasses, as well as social media promotions, businesses are able to make the most of the opportunities. The sole aim is to help businesses succeed.
Lasting for 12 months, this service is completely free of charge, as long as the client either lives or runs a business in the local authority area.
We think the work it is doing is fantastic for the south coast and businesses alike. We'd encourage you to check them out and see if they can help your business.