Yey, I'm back in the studio from my USA adventure; meeting up with our brilliant colleague Laura Hawtin – Glow's Head of Communications – who lives in Dallas, Texas and a quick dive into to Washington DC on my way home. Three full on weeks!
Visiting Texas for the first time was 'bonkers, entertaining and a fabulous experience'.  We packed in lots; Laura was a brilliant tour guide and yep, I – absolutely had to – visited Dallas Southfork ranch too (for those under the age of 40, apologies, this might not seem so exciting).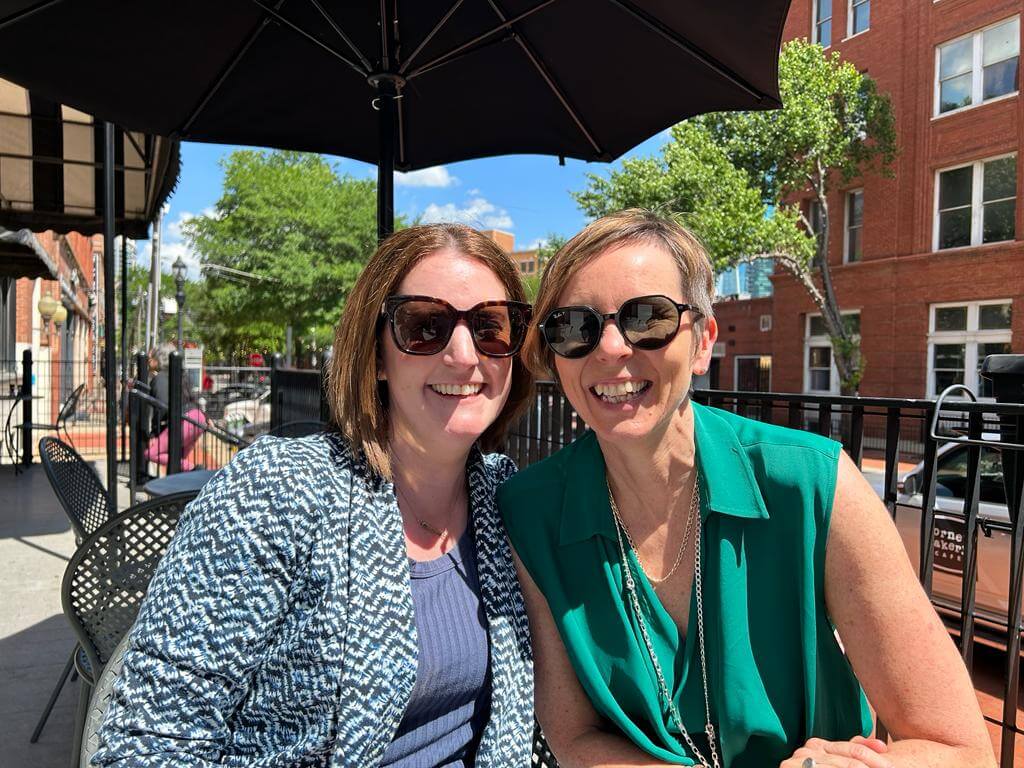 Here's just a snippet of what I learnt and saw:
We were staying just outside Dallas (around a 35 mins drive away) in suburbia, close to Colleyville. It was immaculate. Gardens, public places, roads; all very neat, ordered, with no litter anywhere (no fly tipped sofas here 😉). The roads are huge, the drivers polite (although there seemingly were no rules on the freeway) and the vibe friendly and chilled.
The houses are big too, palatial & grand. It did feel a little bit like toy town, as if we were on a film set (maybe we were and didn't know). Some houses looked like castles. It was magical, if a little surreal.
Colleyville and neighbouring areas, Southlake, Bedford etc. are all cities. The districts (cities) are based on the number of dwellings, not shops, high streets etc. as there aren't many. Each city has a block or blocks of shopping areas with parking. There are lots of nail bars & dentists (what more does one need) and – apart from Southlake, which had many – only a few clothes shops. There were supermarkets & restaurants too but – and oh my golly – we didn't find any bars (I resisted flying home 😉). To have a drink you need to go into a restaurant or steak house.
Big on cycling, I hired a bike for a few days and loved getting to know the area. It was very flat and pristine. Dogs must be kept on a lead at all times but there are dog play pens – different pens for big and small dogs – where they can be set free. I was (virtually) the only cyclist and it was fascinating to see that hardly anyone walks or jogs. Partly because nothing is in walking distance so going for a walk for the sake of it (as us mad Brits do) wasn't really needed. Plus, of course, in the summer it is unbelievably hot in Texas, so walking isn't generally as common. I guess another reason is petrol is incredibly cheap; Laura's General Motor 8-seater beast only cost circa $50 to fill up!
Another little interesting fact, I thought, is hardly anyone cooks at home, they either go out to a restaurant or steak house or order in via Door Dash (like Just Eat). Great for the hospitality industry! This is my kinda place.
As part of my trip, I embraced the business scene too as Laura and I caught up on projects. Confidence and belief (in achieving, the economy and winning) is all part of Texas life. It was enlightening and exciting.
I have many other tales (numerous funny ones) re my Texas experience – that's for a coffee or glass of wine – but here are a few of my favourite take aways:
Southlake, a city close to Colleville is great. It has cool boutiques, restaurants and was lovely to stroll around.
Saltgrass Steakhouse. Wow, the bread, dips, and salmon (I'm not much of a steak person – I know 😉) was fabulous!
Dallas Arboretum & Botanical gardens were beautiful and great for kids too.
Southfork ranch. It was hilarious and bonkers – JR, Bobby, Sue Ellen – Dallas at its best. We laughed lots.
Visit to the Sixth Floor Museum in Dallas (where President Kennedy was shot in 1963). It was utterly fascinating, thought provoking and well worth going.
Lucchese boot store in Dallas. This is a boot shop on steroids. One person in our party might have bought full on cowboy boots, hat, and belt!
The washing machines and tumble dryers are huge! (I know, random) but they are soooo much better than the UK, re performance, but perhaps not for the environment.
And most definitely spending time with Laura and her family. Miss you already Hawtin!
Lastly here's a few Texas stats n facts:
Texas is huge! At 268,596 square miles, and with more than 30 million residents in 2023, it is the second largest U.S. state by both area and population. Texas is larger than any country in Europe.
Dr Pepper was invented in Texas in 1885
Texas uses its own power grid, separate from the rest of the United States
The Texas flag's designer is unknown. An early image of the Lone Star flag was drawn by Dr. Charles B. Stewart, but no one knows who is responsible for actually designing it.
The colours used on the Texas flag are the exact same as those used on the United States flag. The red, white, and blue colours used on the flag are required to be an exact match to those on the national flag. Each colour has its own meaning: red for bravery, white for purity, and blue for loyalty.
Cheers Texas, what a ride!