We're sharing an internal communications poster we recently created for our long-standing client, Aquila Nuclear Engineering to promote its vision, mission and values to employees.
Big believers in great internal communication, and undergoing a radical growth plan, Aquila wanted to make sure its staff understood what Aquila stands for, its purpose and vision for the future. After working hard to both define and refine the vision, mission and values, Aquila wanted to display all three for staff to read around the offices and workshops at its site in Twyford, Hampshire. Visible to all staff, clients, associates or prospects the posters are simple yet powerful communication pieces.
It was key that the design was on brand, eye-catching, and clear too, so that the message was easy to read. We used simple vector icons to illustrate each point to make sure the key message was visible
One of Glow's copywriters worked with Aquila to fine tune its mission, vision and values. We refined the text, shortened the message and categorized so it was easy to digest.
As part of the project we also printed the poster in various sizes so it could be displayed throughout the offices and workshops.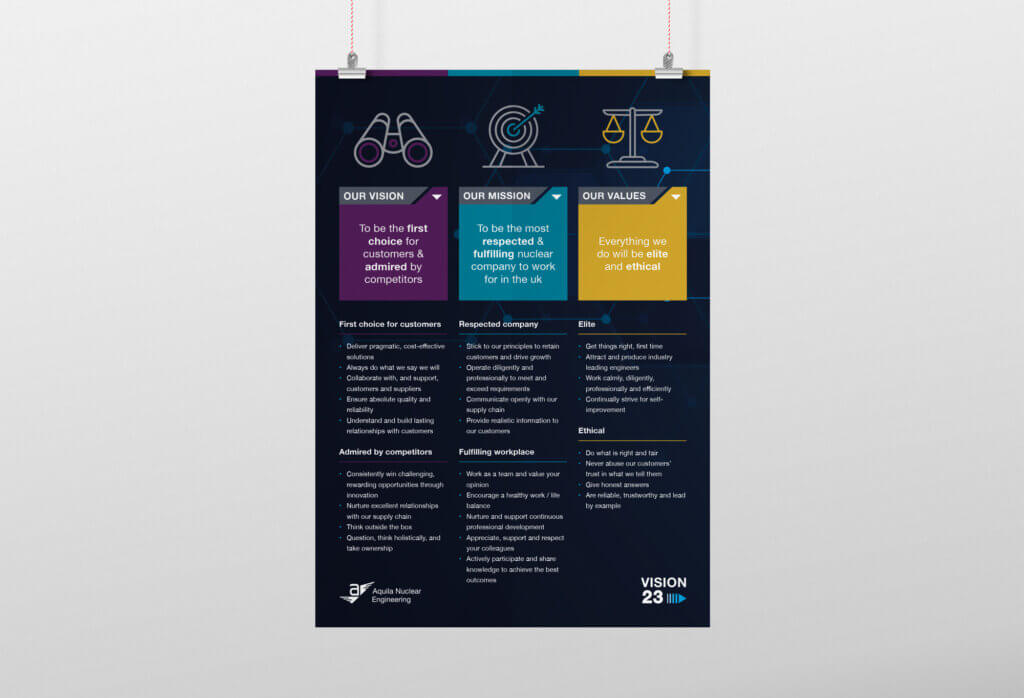 At Glow we are big advocates of internal communications and making sure they are designed and promoted both in keeping with the company brand and delivered with the same care as any external message. After all, staff are the bedrock of any business so it's worth making all internal messages sparkle.
If you are working on an internal communications campaign, marketing or HR, and could do with some creative magic, we'd love to help.
---
About Aquila
Aquila's Engineers have been involved in the nuclear industry for the past 40 years with experience from every licensed nuclear site in the UK. Its vision is to be the company of choice, delivering mission critical nuclear engineering solutions in Europe and the Commonwealth.
Glow has been working with Aquila since its inception in 2011; initially with the creation of its brand identity and then delivering ongoing marketing and design projects, including e-shots, social media, exhibition stands, corporate literature, branded gifts and recruitment campaigns. It's been a successful collaboration, helping the company to have grown to its current size of £10m plus, with 50 personnel.