Bionic Reading®, aims to promote reading and understanding of text content in a hectic and noisy world.
Founder & Owner Renato Casutt is a Swiss typographic designer with 25 years of experience. Passionate about typography and helping other people.
As designers, we are very aware of web accessibility and the problems colour choice can have for the user, Bionic Reading® is more about the reader and how they see physical words on the screen or page.
It's no surprise that some fonts are easier to read than others. "Bionic Reading®" is a tool that's more than just about the font, it could improve your reading speed and understanding.
In the image opposite, you can see the first three letters of the word "Bionic" and the first four letters of the word "Reading" are in bold. This is how all words are shown in Bionic Reading®. You can see the difference compared to regular text in the image below.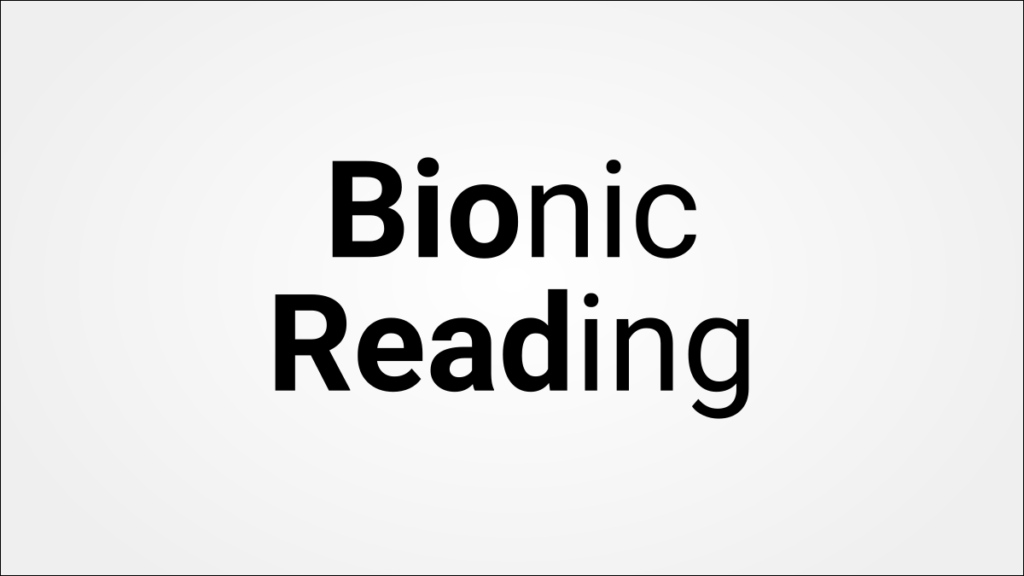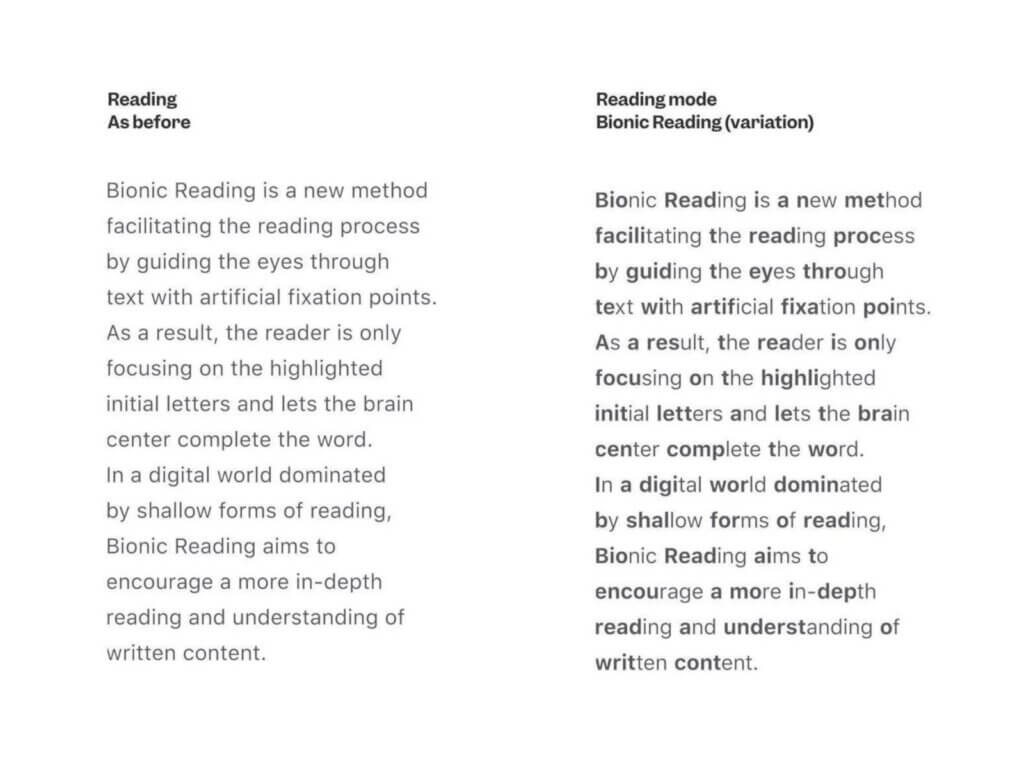 The idea is your eyes focus on the emboldened part of the word and your brain fills in the rest. Your brain can read faster than your eyes, so by reducing the number of letters your eye needs to look at, you can read faster while still retaining the full context.
It may look like a simple font, but it's more than that. A font wouldn't be able to change certain elements of a word. The Bionic Reading® API can be used by developers to make it a text option in apps. They have the ability to adjust how many letters are bold and the contrast with the remaining letters.
Bionic Reading® offers a free converter tool for TXT, RTF, RTFD, EPUB, and DOCX files. This means you can convert eBooks and even use Bionic Reading® on your Kindle devices and other eReaders. Simply upload the file to the web converter.
This all sounds very exciting, but should you use it? You may have already answered that question with a few examples on this page. Could you read the sentence more easily than the others? If the answer is yes, maybe you should give it a try.
Some people who suffer from conditions such as ADHD or dyslexia have found that Bionic Reading® has improved their reading and understanding. Others don't seem to notice any difference compared to reading regular text.
There's currently no evidence to suggest Bionic Reading® is any better than regular text. However, if you find it easier, there's no reason not to give it a go. More apps and devices are likely to implement this feature as it continues to grow in momentum.
Why reading is important
Reading and making sense of the text is an important part of everyday life. To understand how Bionic Reading® works, we need to understand how reading works. Bionic Reading® converts texts so that the most concise parts of words are highlighted. This helps guide the eye over the text, as the brain remembers previously learned words more quickly.
How will this be achieved?
Bionic Reading® is a system that supports the reading flow. The eye is guided through the text by highlighting parts of every word. With the interaction of "Fixation", "Saccade" and "Opacity" visual cues can be transferred to the text, which makes changes to the typeface.
Why Bionic Reading®?
Bionic Reading® aims to play a supporting role in helping readers take in large volumes of text. Technological progress has given them the opportunity to increase the pleasure of reading in a focused way and without distraction. This saves precious time. Helping the user gain advantages, through learning new things faster. Expand their knowledge and improving their skills.
Everyone is different
This method can be individually adapted to the needs of all readers, offering maximum customisation for all users. Concentrate on the essentials. They have created a virtual space of calm, allowing you to absorb texts faster. It can increase your performance and confidence. And more knowledge can make you more successful and give you a significant advantage.
More than 15% have difficulties
+15% of the population has great difficulty reading and understanding texts (dyslexia). Feedback from affected users say they immediately understood the content of various texts the first time they read them, which was impossible without Bionic Reading®.
What is researched?
The most important processes and structures have already been shown by the researchers Just and Carpenter in 1980 in a text comprehension model. Historical scientific eye movement research has existed since 1905 (© L.E. Javal. The Physiology of Reading and Writing).
How do we read humans?
When we fixate on part of a word – the fixation – the necessary information is passed to our brain so that we can match our long-term memory with the available representational products.
What does it mean?
The jerky phase between fixations is called saccade. During the saccade jump, we are unable to take in read information and pass it on to our memory.
And what happens next?
They are constantly improving the product and identifying a variety of optimisations. Their knowledge of typography and technology enables them to drive further user-specific improvements.
Source: Bionic Reading