We absolutely love this simple yet effective recruitment advert we created for Cyclife Aquila Nuclear. It goes to show that you don't need masses of copy to deliver your message. The striking full bleed image helps to gain attention, there is a single message and a QR code to prompt action, and that's it!
As a recruitment campaign, the people focused imagery was key, encouraging people from all over the globe to work for Cyclife Aquila Nuclear, as they undergo major growth.
The bold colour block using bright blue helps to flood the page and create a cohesive and eye-catching advert.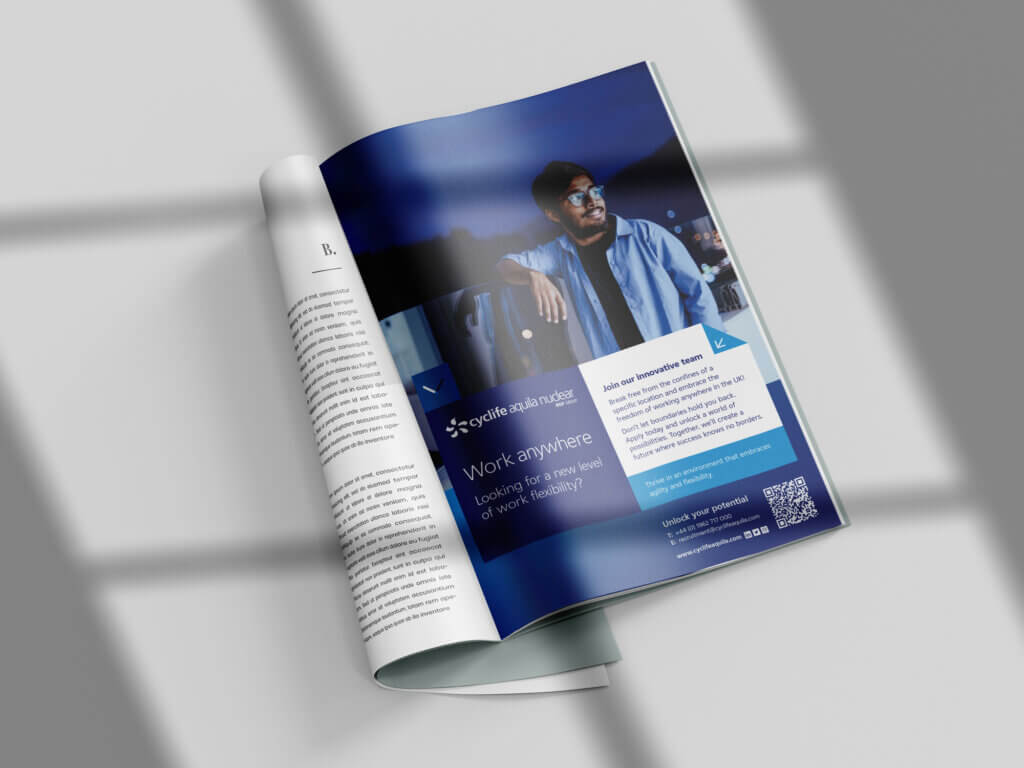 About Cyclife Aquila Nuclear Careers
Cyclife Aquila Nuclear is a fast growing, progressive and inclusive company. We embrace diversity and promote equal opportunities. We strongly believe in an inclusive and supportive work culture. No matter of a person's gender, ethnicity, race, religion, or anything else that makes them unique. Cyclife Aquila Nuclear understand the importance of Equality, Diversity, and Inclusion, and we are committed to enhance and develop good working relationships by following our core values of being Elite & Ethical in all we do.
Always on the lookout for new talent, feel free to submit your CV to its recruitment team outlining what you are looking for: recruitment@cyclifeaquila.com.
About Cyclife Aquila Nuclear
The Aquila Team has an impressive track record in successfully delivering projects across a range of domestic and international nuclear market sectors.
It's seasoned engineers have been involved in projects from the design concept stage right through to manufacturing, testing, installation and commissioning. This experienced group of nuclear engineers work hand-in-hand with Aquila's younger engineers coming into the industry.
Clients engage with Aquila at different stages in the delivery process. Aquila likes to get involved as early as possible so that it can share best industry practice from the start; saving time, money and delivering exactly to it's clients' requirements.