Every month Aquila produce a company newsletter, filled with the latest contract wins, staff updates and general goings on. While we already create external newsletters for Aquila, the internal ones were produced in-house by their marketing bods. While the content was spot on, they needed some help with branding and design – our forte! The Aquila team approached us to create a Canva template that was on-brand and easy for its staff to populate each month.
Aquila are great at internal communications, keen to build great teams and ensure staff are aware of information. By creating a Canva template, it allowed the communications team to go in and populate as and when they please and as content required.
Our Canva template design services are great when you're on a budget. They allow you access to the creativity and expertise of a Glow designer while having the flexibility to take control of the end design and populate yourself going forward. We can create you on-brand custom templates (within Canva design capabilities) while removing the requirement for design knowledge and software.
We've written a helpful blog about Graphic Designers vs Canva – check it out here. Now, you may think as a design agency that we hate Canva (or other similar design platforms), but you'd be wrong. We totally believe Canva has its own place in the design market.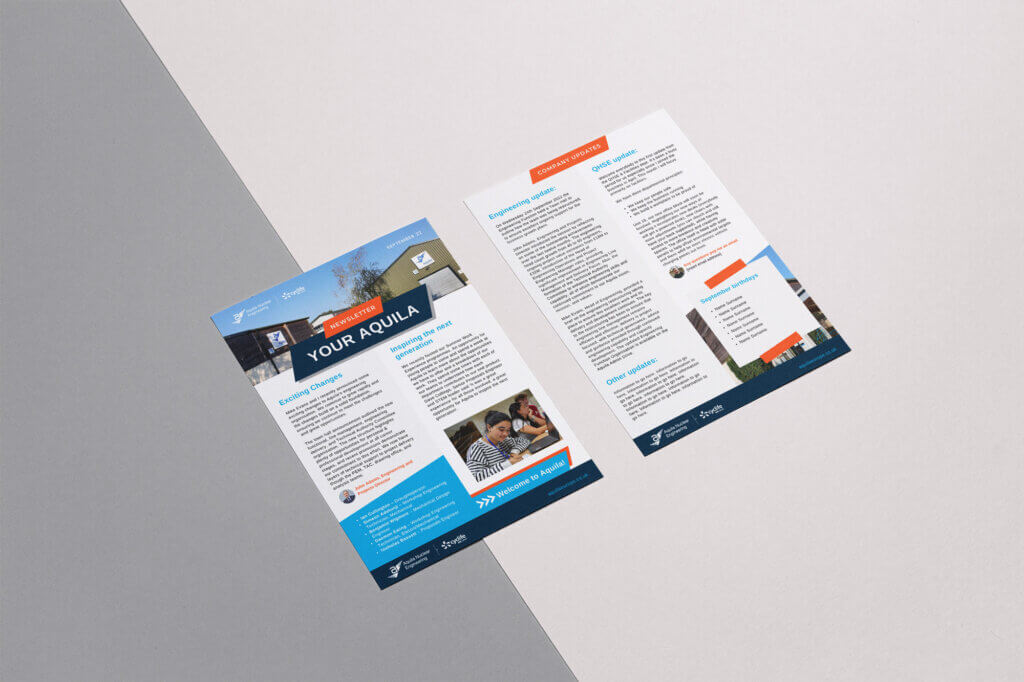 About Aquila
Aquila's Engineers have been involved in the nuclear industry for the past 40 years with experience from every licensed nuclear site in the UK. Its vision is to be the company of choice, delivering mission critical nuclear engineering solutions in Europe and the Commonwealth.
Glow and Aquila's relationship
Glow has been working with Aquila since its inception in 2011; initially with the creation of its brand identity and then delivering ongoing marketing and design projects, including e-shots, social media, exhibition stands, corporate literature, branded gifts and recruitment campaigns. It's been a successful collaboration, helping the company to have grown to its current size of £10m plus, with over 50 personnel.