In the studio this week, we completed the latest winter edition of the Go! Southampton newsletter. Since the last autumn edition, created in September, Go! Southampton has been busy organising and promoting many great events, schemes and plans throughout Southampton city centre – so there was  a lot to fit in!  
Within the newsletter you can find out more about the city centre Christmas campaign and tree installation, progress on the UK City of Culture 2025 bid, the Southampton Inside Out programme and public art projects. Go! Southampton has also been doing so much to help the business community, seeing a positive impact from its security measures and Covid-19 support. You can find out more here: gosouthampton.co.uk/sbcp 
The newsletter is printed and distributed to local businesses, levy payers and the community, to keep them all updated. This version took on a more Christmassy feel, retaining the existing brand style but with the addition of some playful, festive elements such as snowflakes and Santa hats.  
The newsletter also outlines different services Go! Southampton offer, including, a business rates consultancy support, city cleaning, recycling schemes, security and rangers, as well as marketing and promotion services.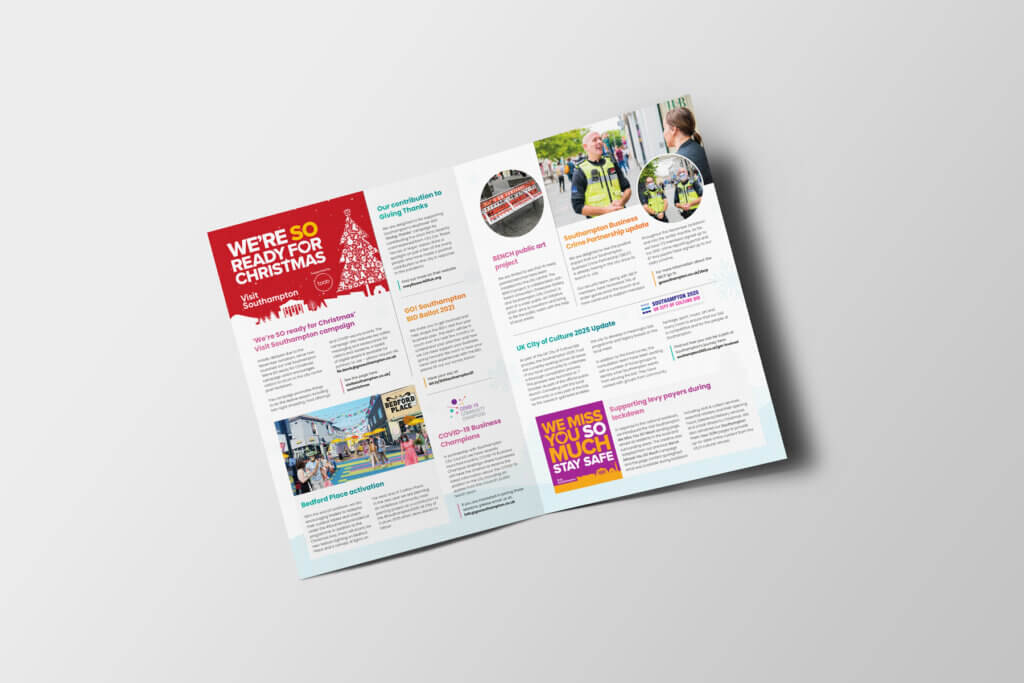 About 
Go! Southampton is the Business Improvement District (BID) for Southampton City Centre. Working in partnership with local stakeholders, the BID's ultimate aim is to realise Southampton's potential as a world-class city, which will in turn benefit residents, visitors and – most of all – the businesses that fund it. 
Glow has been working with the team at Go! Southampton for two years, in this time we have designed multiple campaigns for its seasonal events that aim to increase footfall across the city, including Seaside in the Square, Christmas in Southampton and The Ghost Trail to name a few. 
Keep up to date 
Why not follow Go! Southampton on social media for regular city updates.