We have an exciting new client, IGY Marinas, a collection of luxury marinas throughout the United States, Europe, the Caribbean, and Latin America.
While we were originally approached to create some marina and destination guides (these are a work in progress, we can't wait to share them with you), IGY also required a new pop-up graphic to promote a special offer to its Malaga audience.
We love working within the tourism industry, it's a passion of ours. IGY were able to provide us with stunning imagery of its marinas and destinations. The Malaga port in particular is gorgeous – so we made this the main feature of the banner.
While the IGY brand is already established with a set of adaptable logos for each marina and white and navy colour palette, they allowed us to adapt the brand styling where we thought suitable as long as we retained the overall general feel.
As well as promoting the offer, we also needed to visualise the services available at the Malaga marina and the benefits of docking there.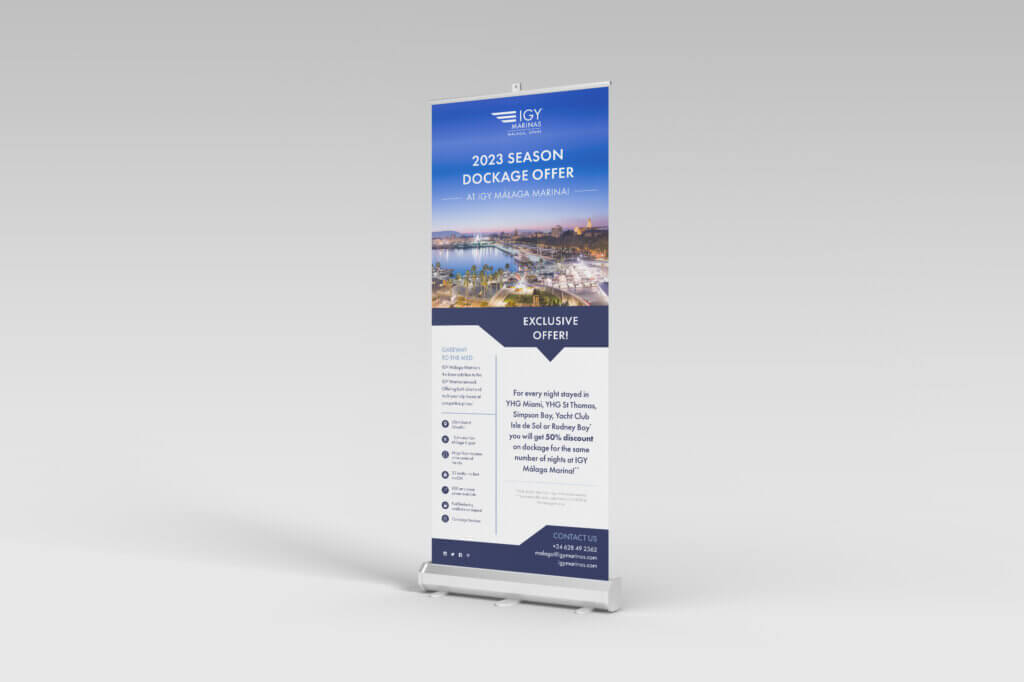 A little about IGY Marinas
Founded in 2005, IGY focuses on acquiring, managing, and servicing luxury-yacht marinas and the surrounding upland real estate properties.
Headquartered in Florida, IGY also has offices in New York and the US Virgin Islands. Island Global Yachting Marinas operate under the signature Yacht Haven Grande Collection and the IGY series brands, as well as several private labels.
IGY's network of properties is setting new standards for service and quality in nautical tourism throughout the world. The company offers an unprecedented collection of marinas in the Caribbean and Americas, all catering to a variety of vessel types including sport fishers, cruisers, sailing, and motor yachts, as well as being exclusive home ports for some of the world's largest mega yachts. IGY also participates in 10 of the world's biggest and best sport fishing tournaments, making our marinas in Cabo San Lucas, Mexico and St. Thomas, USVI, highly sought-after angler destinations.
---
Mock-up credit: Image by rezaazmy on Freepik