Lisa Lavis, our MD, looks back (and forward) over a brilliant chapter so far.
 2000 inception
"What big cat would you be?" We formed Glow in the year 2000. Rather than traditional titles; Managing Director, Creative Director, Graphic Designer etc., we wanted something different, something that would help set us apart from the others and big cats won the theme.
There was lioness, panther, puma and tiger to start, and as the team grew, so did the cats, with a snow leopard, jaguar and fishing cat. We kept this idea for 8 or so years, until we reverted to the more traditional titles. It was a fantastic brand profiling idea and even today, when I meet people at networking events, I am occasionally, if rather embarrassingly on my behalf, referred to as the lioness!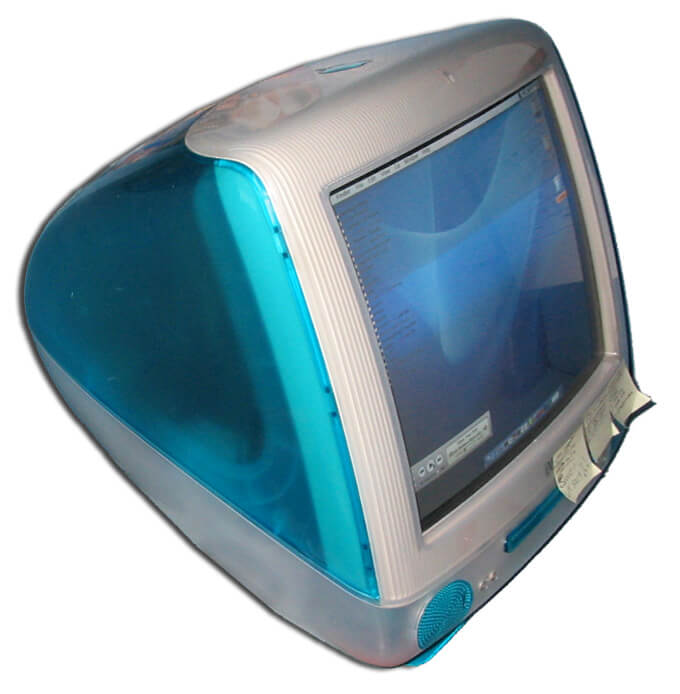 I remember our first invoice. It was for £250 for marketing advice to an insurance company in Petersfield. We received a cheque (!) and paid it in. Before this fee, all funding to set the business up came from us. There was no bank loan, no rich uncle, no rich us. We significantly reduced our salaries from previous jobs, lived off very little and invested a lot of time. Here was the first reality of running your own business – financial risk and cash flow.
What we offered 21 years ago differed from today and our services were much more biased towards traditional marketing. Websites in general, unbelievably, were not abundant and quite a lot of our time was spent convincing companies they needed one. But design and creativity was then, as it is now, at the core of what we offered, and it didn't take long for everything to change.
Growing up – 2001 to 2007
As we became busier our cash flow became more difficult to manage. We had more staff, contractors and overheads to pay, so we needed to look at how to fund each month. We didn't want to take on big loans or increase our overdraft, so we researched our market and identified it was common to invoice a deposit upfront. A 30% deposit was introduced; and pleasingly, well received. It's funny how I worried about approaching this question with clients, it was fine, they were happy. Another quick learning curve – if you don't ask, you don't get.
The extra work and bigger projects were all very exciting, but exhausting too. We took on every project that came our way. Our systems were good, but they weren't automated, so it was down to the memory and organisation of the team. Long days and late nights were the norm. We knew we couldn't drop the ball, but we knew too that we needed to address our way of working.
As Glow was growing up, we were too. I was still the youngest team member (I'm the oldest now ha-ha), but even so, I was now over 30 and the rest were in their 40s and 50s. We had different lives and commitments and although we all still very much enjoyed Glow and wanted it to grow, we knew we had to be sympathetic to personal plans too, this included, along with the long hours, having some fun as well! Glow away days/weekends were born. Every six months we would retreat to a cool cottage somewhere different in the UK, have a big strategic meeting on the Saturday and then chilled throughout the rest of the weekend. We went to some wonderful places in the UK including, St Ives, Malvern Hills, Bakewell, Wales, Kent, Cotswolds – and for each trip we'd research for hours – often using the fabulous Rural Retreats – beautiful cottages, with great facilities, and most importantly, within walking distance of a great pub!
We planned lots, got our say, challenged each other and had some great times!
Some of the changes we put in place during these years were setting up a satellite office in Brighton, and then London. Picking up more London clients and creating a new division called The Writing Room. These were exciting and fun times and with our newly found confidence we started to enter awards too…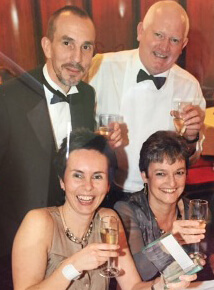 "And the highly commended Business Personality of the year 2009 is…. Lisa Lavis!" Oh, my good grief, I'd won an award! It was for the Business Excellence Awards in association with Business Link and the judges believed I had something to offer. I was over the moon, really honoured! It was a huge boost for the team too, we had a fabulous evening. Life running Glow, at this exact moment, was brilliant. And to top it we were nominated for small business of the year too. Things were just going to get better…
Tough, changing times 2008 to 2011
In 2008/9 we went from our best year to date to our worst. Sales plummeted by 40%, clients stopped spending and the phones stopped ringing overnight. The recession walked up to me with pace, slapped me hard and refused to back off.
A new plan was needed, new thinking and we, as owners/founders had to have tough conversations. It doesn't take a mathematician to work out that if sales drop by nearly 50% and you still have the same number of staff, the books are not going to balance. First off, we didn't pay ourselves for months (nothing) and then we gave ourselves a generous pay rise to £500 a month.
After much soul searching two of the original founders decided to take the leap and move onto new challenges. One, became an English teacher and writer in Marseille and the other pursued a fictional writing career outside Glow, while continuing to support as a non-exec director. It sounds almost romantic putting this down in words now, but these were tough and sad decisions. Two of the team moved on too, to other jobs. The Glow team had broken up; it needed time to re-group.
I guess the sensible me would have shut up shop, re-trained and stopped all this running a small business nonsense. I can't say I didn't consider it (on many occasions), but my gut and my heart still had more to give and besides, I still wasn't one to conform. So, on we went!
It was around this time that social media was featuring more in our business lives. Although LinkedIn was created in 2002, MySpace in 2003 and Facebook in 2004, it took a few years before it was being used in business. And at the start, this was only certain sectors too; FMCG, B2C largely. I remember having a laugh with one of our designers who said we should use social media and I retorted I didn't see the point in 'MyFace' – I had little idea what the social media fuss was all about in 2008. Coupled with social media, digital marketing was taking off too and we had to understand this new landscape. So, we created a training strategy, which continues today of constantly learning new skills. Our ethos being to always remain more knowledgeable than our clients.
We certainly weren't millionaires (I kind of thought, rather naively, in the year 2000 that I would be by now), but I was building wisdom and experience of how to run and small business and survive the turbulent times. The new way of doing things evolved; and it wasn't so bad.
Navigating a strong agency 2011 to 2016
As social and digital became the norm, our thirst to stay ahead of the technical environment was key. Our industry had grown and changed, and we needed the right skills and strong staff matrix to fulfil both print and digital markets. We invested in digital and technical knowledge to bolster our design and branding skills. We created a powerful team with a breadth of experience.
We also invested in our fabulous project tracking, time management software, Streamtime (which we still use today). It's a mighty fine piece of technology and it drives us, our project, our clients, our day. It means we stay on top of the game, always. And in 2013 as part of the Streamtime tracking process we introduced weekly status reports, written for all clients, detailing each project status and the actions. We still do these, every week.
In addition to Streamtime, we wanted kudos and skill recognition. We wanted to maintain our learning and professional development; and while we had always signed on to this ethos, we now needed it formalised. In 2010, we joined the Design Business Association (DBA). Through the DBA, we built our CPD (Continuous Professional Development) points each year via workshops, seminars and training. We were also able to tap into the invaluable yearly DBA bench-marking.
Brexit was on the horizon, so was Trump!, but there was an air of optimism, business strength and a period of sustained growth.
We're going to fly (what can stop us now?!) … 2016 to 2020
Our structure and team were fabulous. The economy had picked up again and we were set for greatness. We had invested in adding a Business Development Manager to our team in August 2015. Some may say this was a bold move as she was four month's pregnant at the time, but I knew she was right for the job. We built on our expertise, crafted out a strategy for sustainable growth, invested in our team and its wellbeing and established brilliant client relationships, with companies who mirrored our values and vision.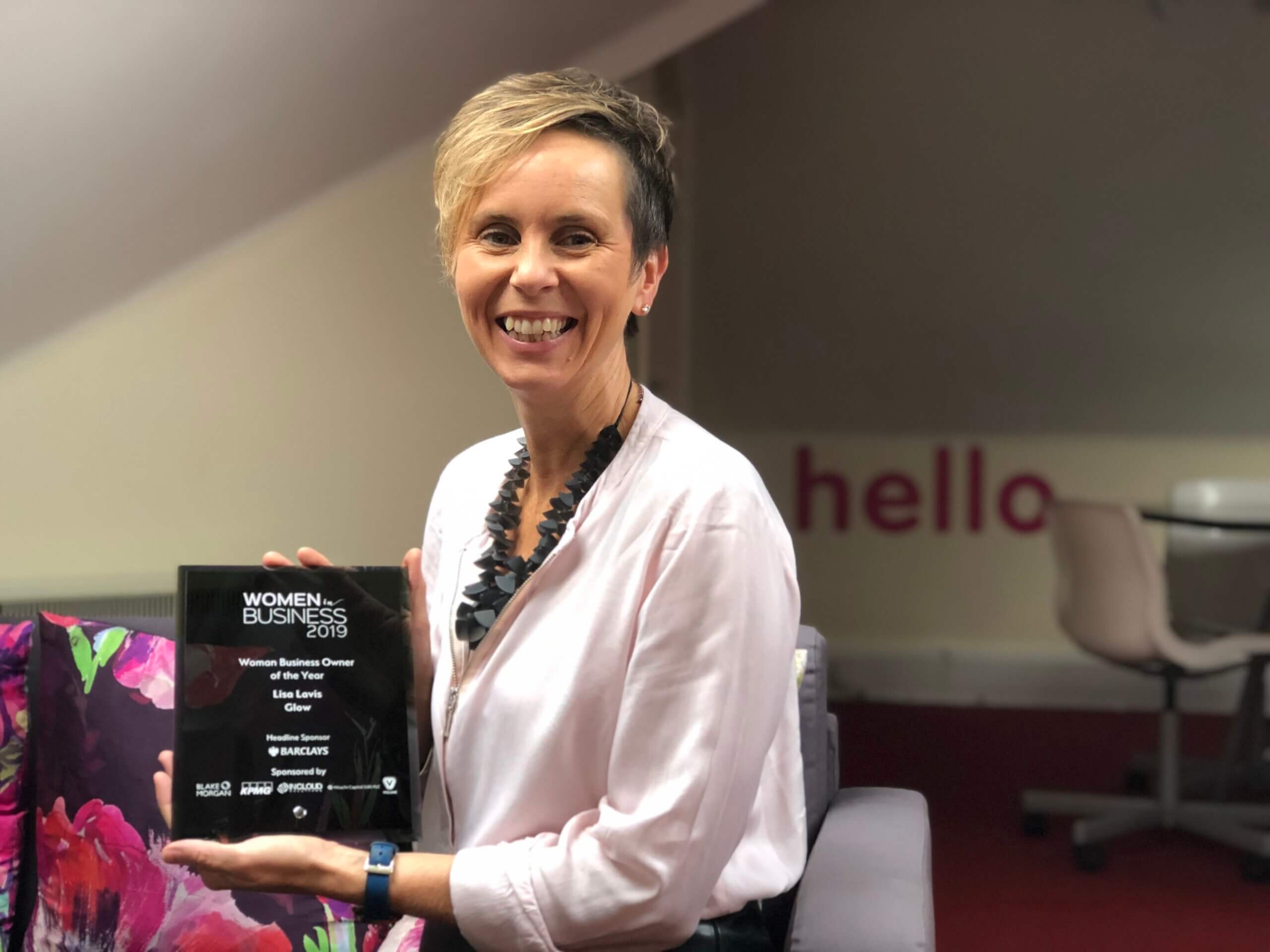 2019 was truly fantastic. We hit our best sales year to date, ever… and in October 2019 I was awarded Business Owner of the Year (The Business Magazine). It was a true honour and a wonderful accolade and boost for the whole team.
Whether it's superstition, or just wisdom and experience of running a business for many years, I remember (after the celebrations!) feeling worried about the next chapter. I think it is knowing the yin and yang of business and life in general, that you know good and great things are always around the corner, but tough times can sneak in just before or during  – perhaps needed to achieve the great?!
None of us will ever forget March 23rd 2020. Lockdown. Stay at home. For me, without question this was the hardest period of being Glow's MD. I remember vividly being paralysed with fear, but equally galvanised with adrenaline required to create a new, quick and robust survival plan. There were 3 things I had to prioritise:
To keep my mum & family safe
To keep my team safe
To not make any redundancies
Over March and April 2020 our sales declined by 60%. There was confusion, bewilderment, guilt (all I had to do was stay at home and run a business) excitement almost – perhaps that was the amazing weather – but one thing was certain, our industry, like leisure, tourism and events was going to be severely damaged.
I went into full financial strategy mode. Protect, protect, protect. Within a few weeks we had our grant processed and bounce back loan agreed. I negotiated a rent reduction for the office and signed up to the furlough scheme. I cut my salary and ordered my mum a Facebook portal.
Our sales continued to be roughly 40 – 50% down for most of 2020. And the future pipeline was a trickle. It was brutally hard.
Most importantly though, and what I am immensely proud and thankful for is, we did get through it and I achieved my 3 priorities.
2021. Hopeful. Cautious. Excited.
Again, maybe it's my age (I have a big one this year!) or wisdom, but I certainly didn't see a white flag of virus surrender on January 1st 2021. However, I did see hope and much optimism for change.
In February 2021 sales started to improve and in May 2021 (our financial end of year) we hit our best month since Feb 2020!
During this period, we set new sales targets, we revisited our business and marketing strategies and established new goals and ways of working. We've always viewed ourselves as a bit of a maverick in our business style (The Portsmouth News ran an article on us in 2007 about flexibility and working from home 😉), but during this unforgettable and unparalleled year it exploded our emotional intelligence and DNA to hone in on what we believe is fundamental, and that's connections and people. We introduced Walkie-Talkie's, outdoor client & team meetings, weekly office Pilates, start and finish times to suit, and virtual working to fit life and family.
And as we continue to build and navigate 2021 along with the rest of the world, for team Glow we are determined to flourish and build back better, both from a business and well-being point of view, and to help our clients with their purpose, brand and people too.
As Chair of the Lifestyle and Culture Action Group for Business South, I want to help facilitate my passion for people and help connect the many brilliant Central South businesses in the leisure, tourism, culture, arts, education, luxury, well-being and conservation markets. Together we combine our key skills and knowledge to share challenges and brilliant innovations to help us all thrive.
And there is much else to be excited about going forward. In February 2021 we joined the Agency Collective – an international peer support community for agency owners. We have loved meeting new professionals in our industry and have learnt so much already. An exciting podcast with myself and the Agency Collective is coming soon!
In the studio we also have new exciting developments. We are welcoming on board a new team member, Mark Burnell, who is joining us a senior graphic designer (maternity leave) and we're also researching new opportunities across the pond … oh yes, Glow in the USA could be on the cards!
Lessons learned over the last 21 years; what would I share with someone starting or growing a creative agency (or any business today)? I would say constantly build and nurture your connections. Step up, offer to help and continually learn. Work hard, always be gracious and never forget to look after yourself and your team. Take your holidays, exercise and laugh lots.
And finally, I have a business mantra that has helped me in the last 21 years, and I know it will do in the future as well: 'A good day always follows a bad but a bad doesn't necessarily follow a good'. This applies to minutes and hours too.
Cheers, happy 21 Glow! Here's to you, our clients and remembering tomorrow will always be a good day 😊